About Stella & Rose's Books
Quality editions and collectable titles: visit us in the beautiful Wye Valley on the border between England and Wales.
Situated in the lovely village of Tintern - well known for its ancient abbey - Stella & Rose's Books has been established since 1991 and normally has around 30,000 books in stock. Since October 2018, all books previously held at Rose's Books in Hay-on-Wye are now permanently located at Tintern.
Need a map to find us - Click Here! - If the scale is too fine just zoom out a bit!
Shop Opening Hours
Open 10am until closing at 4pm.

7 days a week.



Closed 25th & 26th December & 1st January
---
Stella Books Webcam
Due to recent flooding, we have fitted a webcam to the outside of our shop to allow us to monitor the river level remotely. But it also allows our customers to get a view of the Wye Valley!
We'll try and keep the camera pointing in a sensible direction. Let us know if you spot anything interesting! The image should refresh around every 10 to 15 minutes.
To see a large version of the image, click here.
If the camera is pointing up-river, you might just get a peep at our very smart sign on the riverbank as well as views of the river sweeping around the bend toward the old Tintern station.
If the camera is pointing down-river, you should just be able to see Tintern Abbey above the trees as well as the old Wireworks bridge and the Rose & Crown pub.
---
Meet the team. These are our main staff members. We also have a number of part-time staff.
Sonia (and Onyx)
This is Sonia together with her assistant Onyx, a 'Hearing Dog for the Deaf'! Sonia is a Partner (along with Maria). Sonia tries to ensure the day to day running of the business goes smoothly and buys our stock. If you have any books we might be interested in, please contact Sonia.
Email: enquiry@stellabooks.com
For more information about Hearing Dogs click here!
Theresa
Theresa processes online orders and also helps our shop customers at Stella & Rose's Books.
Email: enquiry@stellabooks.com
Rosemary
Rosemary currently works Tuesday to Friday, caring for the shop front desk, and processing orders. She always has a smile on her face!
Email: orders@stellabooks.com
Bernice
Bernice currently works Friday, Saturday and Sunday, caring for the shop front desk, and processing orders.
Email: orders@stellabooks.com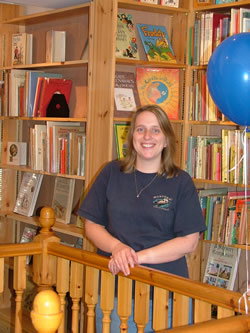 Maria
Maria is a Partner (with Sonia) and has been in the bookselling business since college. She is the founder of Stella and Rose's Books and is considered an expert in the field of children's books.
Email: enquiry@rosesbooks.com
Steve
Steve is our IT manager.
Email: webmaster@stellabooks.com
---
Founding partners Cliff & Chris have retired from the day-to-day business.
Sadly Cliff passed away in March 2017