About Stella & Rose's Books
Quality editions and collectable titles: visit us in the beautiful Wye Valley on the border between England and Wales.
Situated in the lovely village of Tintern - well known for its ancient abbey - Stella & Rose's Books has been established since 1991 and normally has around 30,000 books in stock. Since October 2018, all books previously held at Rose's Books in Hay-on-Wye are now permanently located at Tintern.
Need a map to find us - Click Here! - If the scale is too fine just zoom out a bit!
SHOP Opening Hours
Monday to Friday (including Bank Holidays)
10am to 5pm

Saturday and Sunday
10am to 5pm

Closed 25th & 26th December & 1st January
---
Meet the team. These are our main staff members. We also have a number of part-time staff.
Sonia (and Onyx)
This is Sonia together with her assistant Onyx, a 'Hearing Dog for the Deaf'! Sonia is a Partner (along with Maria) and her specialist subject is Natural History - if you have a collection of Natural History books to sell, please let her know!
Email: interests@stellabooks.com
For more information about Hearing Dogs click here!
Theresa
Theresa processes online orders and also helps our shop customers at Stella & Rose's Books.
Email: enquiry@stellabooks.com
Nicky
Nicky currently works Saturdays to Mondays at our Tintern shop, processing orders to ensure your books arrive promptly and in the best possible condition.
Email: orders@stellabooks.com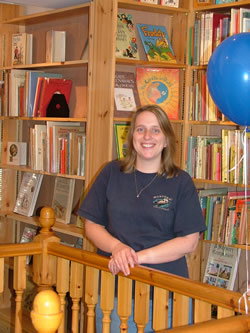 Maria
Maria is a Partner (with Sonia) and has been in the bookselling business since college. She is the founder of Stella and Rose's Books and is considered an expert in the field of children's books.
Email: enquiry@rosesbooks.com
Steve
Steve is our IT manager.
Email: webmaster@stellabooks.com
---
Founding partners Cliff & Chris have retired from the day-to-day business.
Sadly Cliff passed away in March 2017